Camp NL 2020 – CANCELLED
When:
August 14, 2020 @ 4:00 pm – August 16, 2020 @ 6:00 pm
2020-08-14T16:00:00-04:00
2020-08-16T18:00:00-04:00
Where:
Ray's Place (formerly South Wind Motel & Campground)
Minden
ON K0M
Canada

Registration Opens on May 1st 2020
To be notified when registration opens, click here:
Registration
Camp NL is one of the biggest trail events in the province. This weekend involves 3 days of guided trail runs, catered meals & fun activities. Whether you are new to the sport or a veteran it is sure to be a memorable weekend for all. Attendees of Camp NL have the option of staying at our base camp South Wind Motel & Campground, or finding their own accommodations. Before & After trail rides there will be numerous activities at the base camp; Kids tent, Vendor sales area, Live Band, Bonfire, Awards Night and much more! Trail Rides All trails used for this event are on the public trail system (crown land). This means that after you experience these trails with your guide you will be able to come back and visit these trails again without having to pay for access. The trails we use are all trails from the OF4WD Trail index. They range in difficulty from level 1 (for the beginner) to level 4+ (for the extreme). All trails are led by experienced trail guides who will ensure your day is fun while remaining safe and educational. Trail sign-up will occur at the event where you can speak to experts to help you understand what trail best fits your abilities.
Off-road 101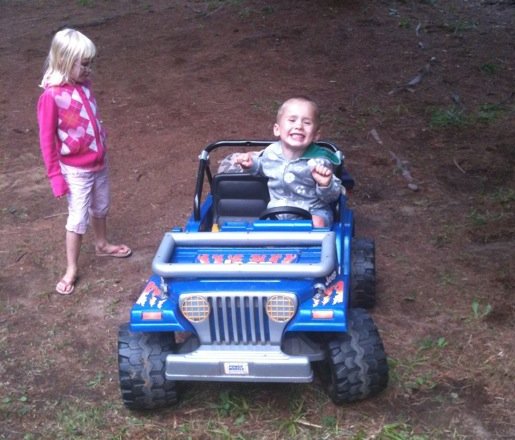 Never been off road before? Not to worry! For the past 10 years Camp NL has been offering "Offroad 101", an instructional course on Friday or Saturday It's a combination of theory and practical instruction by some of our most expert guides. Following a review of basic 4-wheeling principles, our guides will take you out for an awesome trail ride to put into practice what you have learned. With your new found knowledge, you are free to experience some of the other trails available for the duration of the event. Many first-timers have come to CampNL to get their feet wet and learn about responsible 4WD-based recreation and have come back year after year to even become guides! This instructional course is offered at no additional charge. Rock Crawling 101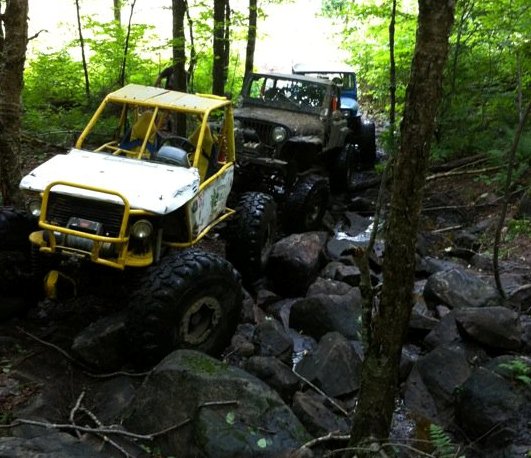 Have you been wheeling for a few years and taken the time to build your rig to handle to best Ontario has to offer? Ontario Rock Crawling Champions will once again take experienced offroaders who have a minimum of 35s, lockers front and rear and a winch, on an extreme rock trail and teach them the techniques and strategies for responsible and effective rock crawling and spotting. This intense experience will leave you and your spotter with all the knowledge and techniques to handle rock crawling on any extreme trail. This course is again offered at no additional charge.
Sample Itinerary
Thursday Evening – Register for event & receive your participant bag – Setup camp and visit with old friends & new Friday – Registration open for late arrivals – Pick-up pre-ordered lunches for trail – Trail Sign-up begins for Friday Trails – Full day of Guided trail runs (lunch on trail) – Return to Camp around 5pm – Catered dinner & Live Band – Sign-up for Saturday Trails Saturday – Trail Sign-up continues for Saturday Trails – Catered Breakfast – Pick-up pre-ordered lunches for trail – Full day of Guided trail runs (lunch on trail) – Return to Camp around 5pm – Catered Dinner – Sign- up for Sunday Trails – Raffle & Awards Night – Bonfire & Party Sunday
– Trail Sign-up continues for Sunday Trails – Catered Breakfast – Pick-up pre-ordered lunches for trail – Full day of Guided trail runs (lunch on trail) – Return to Camp around 5pm – Pack-up & go home!  
Refund/Cancellation Policy
Please take note that you will be able to cancel your registration and all merchandise ordered for CAMP NL and be eligible for a full refund up until June 30th.
THERE WILL BE ABSOLUTELY NO REFUNDS AFTER JULY 1st
However, tickets are transferable at the responsibility of the purchaser providing the following steps are taken:
– The new purchaser must be a current member of the OF4WD in good standing
– The transfer has been submitted for approval to campnl@of4wd.com – this is solely to ensure that the membership is up to date and the participant numbers have been altered and the appropriate names are on the registration list. There will be no ability to change merchandise orders after July 1st as the merchandise will have been ordered.

If there are any questions or concerns about this cancellation policy please direct them to campnl@of4wd.com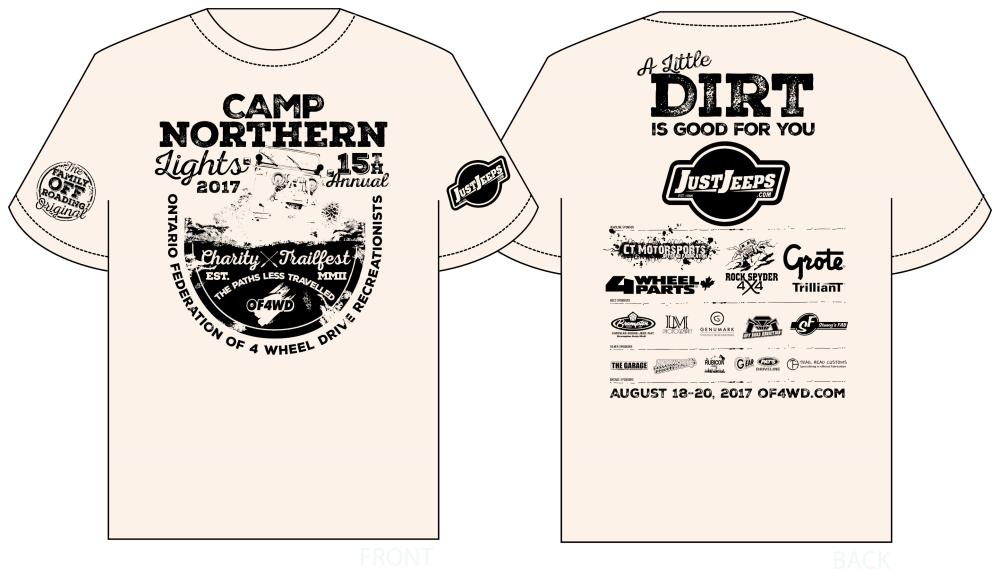 The above image is a sample of the shirt logo and graphics. Samples of the colors are available with the item descriptions.
Please ensure that you understand Camp NL's Refund/Cancellation Policy. You will be asked to confirm your understanding during your registration.