April 6, 2012 at 12:07 am
#2134
Anonymous
Guest
(– by Bad Karma #5647 –)
well she's "done" (when is a Jeep ever done?) for now..
got her out on her maiden voyage. Trail guiding for Camp NL 9 in Minden Ontario.
I got her road worthy on Monday, drove her to get Ice cream on Tuesday and drove her (1.5 hours) up to the event on Wednesday. rest day Thursday, then wheeled Friday, Saturday and sunday.
drives like a dream. smooth and straight. probably rides better than my 03 TJ did when I had it.
only problems we had on the weekend…
-fan controlled stuck on (not a bad thing)
-shock mounts need to be reworked, front too close to bottoming out for comfort and rears need the shock body turned 90 degrees so hose doesnt contact tire when fully stuffed.
-starter died on sunday. (replacement had a faulty solenoid which engaged while parked in the garage, Jeep tried to drive through the garage door. luckly no fire and no one got hurt, no one was home at the time)
everything else was great. new projects on the Jeep are already in the works.
anyways, here are the pics…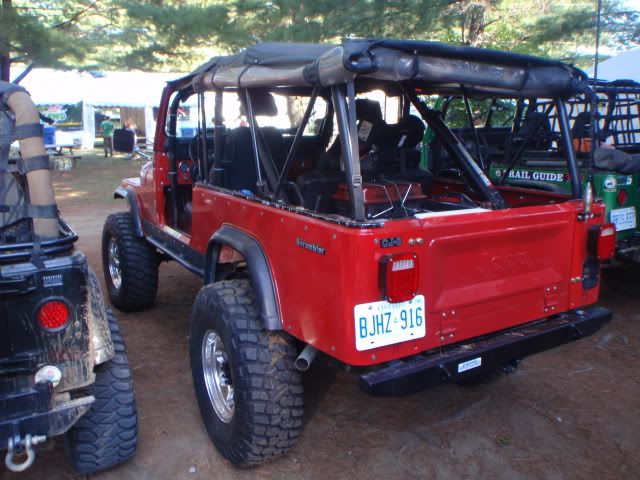 My little guy wheeling his Red TJ and his blue "hot Wheels" Scrambler at lunch time…