April 5, 2012 at 11:59 pm
#2117
Anonymous
Guest
(– by Bad Karma #5647 –)
as of right now, I've been swapping the drivetrain out of the CJ-8 into my CJ-7 so I can sell it and recoup some of the CJ-8 purchase price. So I havent got much done on the CJ-8. But I've tinkered on it when the weather is bad outside.
Installed the sleeve for the Comp4x4 heavy duty tire carrier hinge into the bumper. Did this after I got the frame galvanized because the spindle that goes into the sleeve is a "machined" fit. the galvanizing would have screwed that up… then i threw a coat of paint on the bumper, sleeve doesnt fit now :banghead: will sand the paint out eventually…
what I was tinkering on Today… test fit the Kilby gas tank skid. The AMC 20 rear rubbed the skid, just enough to rub the paint off. But with the Dana 60 and the diff cover I have (Great Lake Off Road 3/8" cover with 1/2" ring gear protector) I knew It wasnt going to "slightly rub"
did some searching and found some people have sucessfully heated up the poly gas tank with a heat gun and re molded it to clear a modified skid plate. (i know about heat and gas, so dont bother saying anything about it, i get it… ) Anyways, today I measured up what clearance I needed to do to clear the D60. here are the cuts I did…
It looks off, but i wasnt standing over it perfectly straight.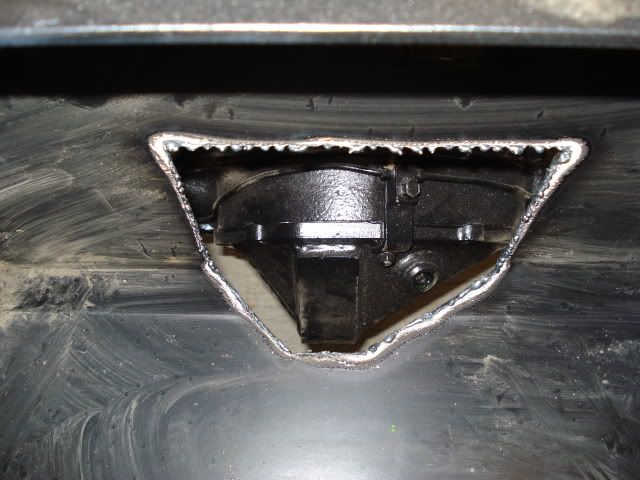 Next thing I will do is fill in the hole with 3/16" Plate… (didnt get that far yet.. )
But I did put a little something on the back bumper.
I will post more and the build progresses. But its going to be slowish..